A 'source close to' ICANN, the International Organisation responsbile for the co-ordination of the internet's naming system, tells me that they are :
"assuming that every inbound/outbound IP packet over the course of the ICANN conference will be thoroughly inspected and dissected" and that "it's likely that it will be  impossible or extremely difficult for anyone attending to establish a VPN."
First of all, I doubt things will be as blatant as this. Beijing is not Pyongyang.
China is the worlds largest nation, Its prosperity depends on its relationships with the rest of the world. No matter what it does with its own population's access to information, it seems to me that it is not likely to jeopardise its standing in the world by excessively locking down normal standard internet access for some of the most important people in the internet world while they meet in its capital to decide the future shape of the 'net.
Of course that doesn't mean that things will be quite as straightforward as they are in, say, Canada or Germany. China hosted a similar (but smaller) international meeting in Shanghai somewhat over ten years ago. Most things worked. I did find BBC news to be inaccessible — which was a bit of a black mark — but that was just a duhka, easily overcome with the right kind of meditation.
Now I have no doubt that Unit 61398 will also have a plan to 'to safeguard the economic well-being [of the People's Republic]'.  After all, it's only reasonable to expect that China would avail itself of opportunities that the UK and USA would not fail to pass up, would you?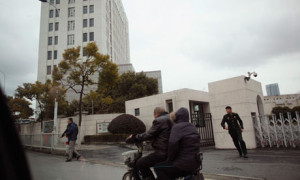 So what could attendees do? I mean that's proportionate and sensible.
First of all, as Douglas Adams would say: 'DON'T PANIC'.
I mean, really, you are probably not as important as you think you are.
But, if you work for a corporation, you do have a duty of care to your employers and shareholders so you should not be blind to the possibilities.
The easiest thing is, that unless you have skills in data destruction (DBAN is your friend),  it would be quite sensible to take a brand new laptop to Beijing. Data can't be stolen from it if it was never there in the first place.
And, unless you are going to keep your electronics close to your breast 24 hours a day, even when sleeping, it seems to me that, rather than interception of your emails,  the biggest threat is that of the 'evil maid attack'.
If you leave a laptop unattended for even a short time, mirroring your harddisk is a trivial task for someone who has physical access to it.
You can buy a cheap netbook at Tesco (UK) or BestBuy (US) for not much more than two or three hundred dollars.  Cheap at twice the price. There are slightly more sophisticated techniques you can use, too.
Secondly, don't forget that you might have sensitive information etc on your tablets and iPhones. Leave them at home and take a new GSM only device if there's a possibility of commercially sensitive data being on them.
Finally, if my sources worst fears are confirmed, and you find that after all you cant 'call home' securely (i.e. using your corporate VPN) over the internet, then just sit back and enjoy the holiday away from the routine rush of work emails.
You'll probably realise that 90% of them you didn't need to see.
Consider the time you will gain as sesshin.